Born
Gateshead England, 1972
Artist Profile
Cat developed her visual aesthetic through an interest in photography over many years with a particular love of black and white photography and the representation of abstract forms on film.
In the last few years, Cat turned her hand to painting and drawing, learning through life drawing classes, workshops, books, experimentation, conversation and mentorship with fellow artists.
Cat had her first solo show Ode to Poetry in 2021, and is currently exploring the edges of perception — the subtle places where reality disappears — with a body of work recently exhibited at SHAC in August 2022.
She currently works from the studio she shares with her partner — Spud Lane Studios — in Robertson NSW.
Solo Exhibitions
Aug 2022 After Dark SHAC Gallery, Robertson
Mar 2021 Ode to Poetry SHAC Gallery, Robertson
Selected Group Exhibitions
Oct 2022 Into the Light Whitewall Gallery, Berrima
Apr 2022 Inaugural Exhibition The Dawe Studio Gallery, Kiama
Jun 2020 Awaken SHAC Gallery, Robertson
Jan 2020 Collective Harvest SHAC Gallery, Robertson
Jun 2019 Blue Square Competition ArtHead Gallery, Moss Vale
Prizes
2022 Whitewall Arts Prize Finalist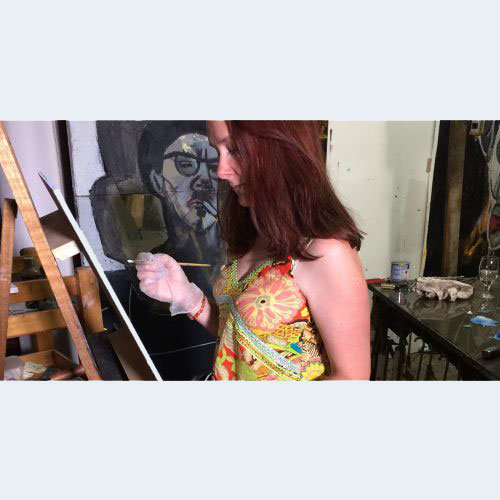 Cat working in Spud Lane Studios